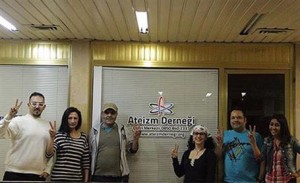 The first Atheist Association in Turkey is founded a few weeks ago.
This is not only the first atheist organisation in Turkey, but also the first one in the large region of Middle East and Caucasus. And the first one in a country with a predominantly muslim population.
In a way, this is a historic event. History books in the future may mention this as a note.
As an internet activist for Turkish atheism, I have also been a part of this process and supported this initiative in any way I could.

In fact, within just a few weeks of the establishment of this first association, a second Turkish Atheist Association is also founded in Turkey, just a few days ago.
I have been aware of both these initiatives and tried to support them both.
There was already a large Turkish atheist presence on the internet, and it had been growing for the last 10-15 years. Some websites and discussion boards for Turkish atheists have tens of thousands of members, and they have been very active on the internet.
There were many attempts to move this activism to the real world in the last 5-7 years, but they haven't been successful. You can read my earlier articles on the subject in my blog.
Now, there are finally civil rights organisations in Turkey for atheists and non-theists. It was to everybody's surprise that these organisations were founded with virtually no legal or bureaucratic problems. People speculate that Recep Tayyip Erdogan's current government may have seen this as an opportunity to demonstrate that they are actually not a totalitarian and anti-democratic government as they are often accused of being, and they even allow official atheist organizations. This may have been an easy way for them to try to polish their image.
Part of the reason for this speculation is the fact that there have been tremendous interest from the media to the first Atheist Association. The president of the association, and some of the founding members have been attending many TV shows, and they have been mentioned in many news reports in the mainstream media.
But the reason for this could simply be that this is in fact a historic development that is worthy of media attention, and there is no other hidden agenda behind it. I am in fact of this opinion, since I am practically a part of this initiative and I know nobody in the government approached the founders of this association for any reason during this process.
Whatever the reason might be for the apparent tolerance from the government for these associations, there are now official atheist organisations in Turkey. The first one is "Ateizm Derneği" (www.ateizmdernegi.org), which means "Atheism Association", and the other one founded just a few days ago is "Ateistler Derneği" (Association of Atheists).
Civil rights associations for non-theists was an important need in Turkey for some time. There is a significant non-theist population in Turkey (although there haven't been any reliable polls to determine the actual numbers), and non-theists in Turkey have a lot of problems. People are prosecuted in Turkey for making websites that have atheistic or non-theistic content, they lose their jobs sometimes, or evicted from their homes or school dormitories, or beaten, etc. They need the protection of a civil rights organisation.
Now that there is finally one, or in fact two of these organisations, then the next question on people's minds is what is going to happen next? Are they going to be tolerated?
Was it just a glitch in the system that these organisations got approved, and they will be shut down soon, or are they going to be allowed to operate?
Even if the governments approval continues, are they going to be approved and accepted by the public?
Ateizm Derneği has a hotline to reach out to people who may need their help, and they already started receiving threats on that hotline. Is the Association going to need police protection? If they do, are they going to get it?
Are they going to be attacked by religuous fundamentalists?
So far, Ateizm Derneği says that only 10% of the calls they receive on their hotline have negative content, and they receive much more praise than criticism or threats.
This is in fact a good sign and it may actually show that Turkish public was ready for this after all.
The next several months or a year is very important. This will be a test for Turkey. This is a test for the government, the public, and everybody. The tolerance level of the Turkish public to this development will be measured, and it will show the whole world how "secular" Turkey really is, and if western style atheist establishments can survive in a country with a predominantly muslim population.
I congratulate the brave men and women who started this initiative (which I am proud to be a part of, although I am not officially a member of either of these associations, for the simple reason that I live in the US, not Turkey), and I am going to wait and see the result of this social experiment in Turkey.
Aydin Turk
contact@turkishatheist.net