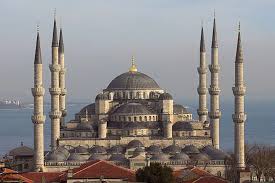 Recent studies suggest that atheism is rising all around the world, therefore it is not surprising that there is a noticeable increase in the number of atheists and atheist activism in the muslim nations, especially the most moderate of them all, Turkey.
Atheism is a concept that has not been known or understood properly in the islamic world, including Turkey, until the recent times. And these recent times are so recent that it actually means the last decade or so, or the "internet age".
Before the recent times, the term "atheist" or its Turkish equivalent "ateist" was just a foreign word. It was a western word that was poorly understood, that was typically used in connection with communism, and also was being confused with satanism or similar views. People didn't really know what it meant, and they didn't care. Of course they knew it had something to do with not believing in God (or 'Allah' in this case), but it was thought to mean someone who has no moral values, a sociopath, or a mentally or psychologically ill person.

Or, for some people it meant a dishonest person who is the enemy of islam and who is trying to spread another religion (possibly christianity or judaism) by trying to destroy islam. Or sometimes it is understood as a phony claim a teenager makes just to look cool.
For a typical muslim, the claim that someone does not believe in 'Allah' is so unbelievable that they always look for a catch. This person has to be either dishonest (a missionary who hides their true purpose), or mentaly disabled, or psychologically unbalanced.
The belief is that there is no way someone with a working brain would not believe in God ('Allah').
This has been the official view in Turkey, and possibly in the whole islamic world when it comes to atheism.
Of course there were always people who believed that the Abrahamic religions were man made, not devine, and there were always terms in Turkish language that refer to these people, or people who believe in religions other than islam, which are words that can be loosely translated to English as "infidel".
But these words ('gavur' which means 'non-muslim' or 'infidel', 'dinsiz' which means 'someone doesn't believe in religion', 'imansız'  which means 'someone who lacks faith', 'Allahsız' which means 'Godless') didn't typically make it clear what these people believed in; they were words that emphasized the fact that these people didn't believe in islam, which was the important point.
The original translation of the word 'atheist' in Turksh was 'tanrıtanımaz', which means 'someone who doesn't recognize God', which implies that God's existence is actually obvious, but these people just don't acknowledge his existence for some reason. No wonder the word didn't catch on among actual atheists in Turkey, who prefered the word 'ateist' to describe their views.
Poor understanding of atheism continues to this day in Turkey, but at least in the last decade or so, mostly thanks to the internet, widespread acceptance and understanding of atheism has also become possible, and atheism is spreading especially among the educated people and the young generation in Turkey who are more familiar with internet than the older people.
Turkish atheism is mostly on the internet, but it exists.
Turkey has a long and proud secular history, although an overwhelming percentage of its population is Muslim. This is rare in the Muslim world, and this makes it a noteworthy accomplishment.  This secular outlook is now challenged by the political trend of especially the last decade in Turkey, since a political party with Islamic roots (AKP) has been the dominant political force during this time. A lot of the policies AKP introduced are feared to put an end to, or even reverse Turkey's secular, democratic and western trend. But this fact aside, Turkey is still the most westernized  and democratic of all the Muslim nations.
As a result, Atheism's presence and rise in Turkey is the most visible, compared to other Islamic nations. At least atheism exists in Turkey, and recognized as an alternative worldview that some people choose to adapt, which is usually unheard of in a typical Muslim society. Atheistic views are subject to the harshest of criticism and punishment in the traditional Muslim nations, since even the Quran itself advises killing of infidels.
But in Turkey, partly because of its secular past, and partly because of the socialist and communist movements that took root in Turkey during the cold war times,  atheism, mostly seen by the public as an integral part of socialist/communist worldviews is at least recognized and not necessarily always seen as an evil that cannot be tolerated.
But this shouldn't be interpreted to mean that atheism is accepted in Turkey and that atheists have no problems. On the contrary, the majority of Turkish population despises atheism, and also the socialist/communist views that they think come with it. And a lot of them indeed see atheism as an evil that cannot be tolerated, and something that needs to be crushed at any chance possible.
But a comparable number of people (or more) are more tolerant of atheism and many will describe it as a wrong path to follow, but will not necessarily agree that the atheists need to be killed or imprisoned, etc.
Many will also recognize that the recent atheistic trend isn't synonymous with socialist/communist political views. There are a lot of atheists in Turkey with more liberal or capitalistic views. But I would have to say that most atheists in Turkey probably still embrace more leftist political views, although I am not aware of any polls to confirm this.
So atheism is alive and present in Turkey. But its presence is mostly felt on the internet and the social media. Occasionally you will see intellectuals on TV declaring their atheism, or writing about it in their columns in the newspapers and journals, but most Turkish atheists are closet atheists. Coming out as an atheist is still not advised in Turkey for most people, but depending on their social circle, and the environment they live in, a lot of atheists, especially the ones that live in large cities such as Istanbul, Ankara and Izmir feel secure about coming out and many indeed came out.
But as of today (the date of writing this article), there are no civil rights groups or foundations in Turkey that exists with the sole purpose of fighting for the free speech and other civil rights of atheists, or promote atheism as a worldview.
There are other civil rights groups and movements in Turkey that would also support atheists in their fight for free speech, democracy and other civil rights concerns, but their main focus is other areas, not atheists or atheism.
An organization founded by atheists, for atheists, in the name of atheism doesn't yet exist in Turkey. At least, I am not aware of any, except for some student clubs, etc at some universities.
But Turkish atheism is strong on the internet, and there are also a lot of recent requests and inquires about atheist organizations in Turkey on the internet, made by the atheist followers of these cyber groups. I am in fact aware of multiple independent attempts by different online groups to set up atheist organizations in Turkey, with face to face meetings and other activities in the real world. As of yet, none of these attempts have been successful. These online groups are usually short lived, and lack the coherence required by the projects in the real world. The biggest handicap is that these online groups consist of people who live in completely different locations, and it is hard for them to get together in the real world. A lot of atheist meetings have been organized and taken place especially in Istanbul by people who met online, but a solid and a long term gathering that will result in an atheist organization is yet to take place.
But the online atheist  communities are very strong and somewhat organized in Turkey. These web sites, message boards, blog sites, Facebook pages, etc are usually aware of each other, and in many cases support each other on online campaigns, that are usually carried out to protest the latest bans on one or more of these online environments, or some recent political development that require media campaigns or protests that are expected to reach as many people as possible.
These online pages and environments are too many to mention here, but the most well known ones with the longest history are Turan Dursun Sitesi (which is a web site and a message board established in the memory of a Turkish intellectual named Turan Dursun who was one of the first who wrote books to openly argue that Quran was man made, not devine, and was killed by islamist militants in 1990s), which can be reached at http://www.turandursun.com/ , and Ateizm.org/Ateistforum (Ateizm.org being the main web site, and Ateistforum being the message board for this web site that has its own domain name) which can be reached at http://www.ateizm.org (main web site) and http://www.ateistforum.org (forum/message board).
Some of these environments have tens of thousands of registered members (such as Ateistforum, which has 20,524 members as of the date of writing this article).
The author of this article is one of the founders of Ateizm.org/Ateistforum, which is now 12 years old.
But Turkish atheism is stuck on the internet. Any attempt to carry out openly atheist campaigns in the real world will probably face a lot of prejudice, maybe even physical attacks in many cases. A lot of things can be done as evolutionists, or people who support secularism, humanism, etc, but probably not as plain atheists.
Some people don't agree, and depending on the activity, and the location chosen for that activity, they believe Turkish public is ready for openly atheist campaigns.
When there is so much talk and duscussion on the internet about moving the Turkish atheist activism from the internet to the real world, one wonders if it is really time for this to happen in Turkey.
We all will have to wait and see.
Aydin Turk
contact@turkishatheist.net